DEX
The Widex DEX system lets you take advantage of a whole new world of sounds. It makes it easy for you, as a hearing aid user, to communicate with your audio equipment, remote controls, television, and mobile or landline phones.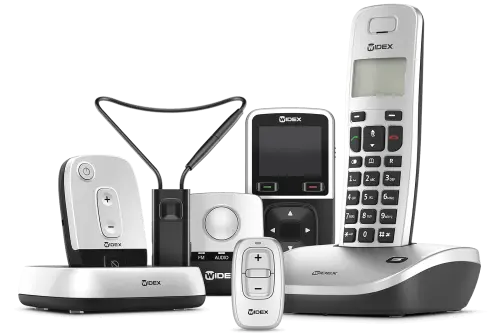 The COM-DEX lets you stream high-quality sound to your hearing aids from any digital source with no sacrifices.
The CALL-DEX is an ultra-compact device for streaming conversations directly from your mobile phone to your hearing aids simply by inserting it into the jack of your phone.
The UNI-DEX is a neck-worn plug and play solution for easy mobile phone use. The device streams audio to your hearing aids – not just from mobiles, but any device with a mini-jack output.
The TV-DEX is your user-friendly wireless assistive listening device specifically designed for enjoying TV and audio. Now you can experience TV or audio sound exactly as it was intended – without annoying distortion or echoes.
The RC-DEX is a stylish, compact and user-friendly hearing aid remote control. Its simple and intuitive design gives you better control of basic hearing aid features like volume control and switching programs.
The T-DEX is a hands-free, wireless neck loop for use with all hearing aids with a telecoil. It lets you easily connect with Bluetooth mobile phones.
The PHONE-DEX is an all-purpose, cordless phone that streams crystal clear sound directly to your hearing aids. The PHONE-DEX provides good speech understanding in both ears.
The FM+DEX is a high-quality streaming device designed specifically for hearing aids. It converts signals from an FM receiver, telecoil or line in and streams them to Widex wireless hearing aids.